INTENSIVE IDR 50,000 WORKSHOP FROM E.S.I KIDS FOUNDER!!
"HOW I BECOME A TEACHERPRENEUR

WITH 6 SUCCESSFUL STEPS"
Being a TEACHERPRENEUR means;
You will discover your hidden potential & talents

You will be able to specialize in your teaching skills

You will have a focus and attentive students

You will be the best version of yourself

You will know how start to monetize your current teaching activities

You will develop a success mindset
Pamela was still a university student  in Australia back in 1997 and she found out that she has the advantage in English as a her Mother Tongue, and decided to teach the foreign university students. That decision made the first step of how she has a creative and unique teaching method, making her own lesson plans, and making more money in her private tuition class.
Pamela started to become a Teacherpreneur in 2006, when she found out that IQ alone is not enough, for both teachers and students. Academic pressure and parental demands cannot be avoided. There was no afterschool programme that supports both emotional and social confidence. It was the beginning of the ESI Kids curriculum and  she saw the opportunity to be more than just a teacher in the classroom.
This INTENSIVE workshop reveals exactly how Pamela has been able to start and grow her teaching skills, how she found her advantage and how you can specialise your best skills and get an insight on how to monetize your best skills into a business plan.
Pamela is considered one of the foremost experts in teacher training, coaching and development .She continues to work in every corner of the education industry, from teaching students, to training teachers, to making her own lesson plan, to creating her own curriculum (now it is called; E.S.I Kids), managing her business, to speaking and to providing private consultation.
Pamela usually charges IDR 3,000,000 – 5,000,000 for private coaching with teachers. But this training reveals you the same methods for only IDR 50,000.
This is only available to the public for a limited time.
Get your seat NOW!!
HERE'S WHAT WE COVER IN THIS IDR 50,000 TRAINING FOR PRESCHOOL TO PRIMARY & PRIVATE TEACHERS OF ANY SUBJECT:
Spring clean your mind

: Find out what's been holding you back from moving forwards outside your comfort zone
Discover your potentials: L

ea

rn how what you're really good at is an advantage/s to help you to boost your teaching skills and methods

Grow your "Teacher's Toolbox"

: Learn various active, and creative teaching activities to increase engagement and focus in your classroom as a 'Super Star' teacher.
Identify success habits: Learn how a positive behavior and good communication helps you to be a leader in your class.

Identify what makes you a "Teacherpreneur"

: Find out your strengths and opportunities to increase your self-confidence and motivation for success.
Think-Link-Ink: Maximise your potentials by putting your ideas into a step-by-step business plan.
We also, have other Teacherpreneurs on board, like Ms Shareen Ratnani.  She's the co-founder of Kiddie Planet Montessori, a successful chain of preschools in Jakarta, Indonesia. Learn from her world class learning and experience of over 20 years as a passionate early childhood practitioner, internationally certified Montessori trainer (MCI, London) and parenting coach. Shareen holds a Bachelor of Arts in Early Childhood Studies (UK) and Master of Science in Education.
Her motto is to 'spark, inspire and change' teachers with classroom tools and strategies that are practical, engaging and creative.
This is only available to the public for a limited time.
Get your seat NOW ! 
Here's what our students say about our workshops!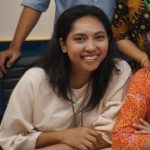 "It changed my mindset, I've more self-confidence. I was used to my old teaching methods,  but now I've learned how to be with the children, to share and work together for their growth." – Shandra Maureen – Teacher Sekolah Cita Buana, Jakarta
"This curriculum (ESI KIDS), pays attention on how children will learn by integrating play and learn through activities." Rosari Kioman – Management Integrated Children's Academy, Pakubuwono, Jakarta
"Dear Teacher Pam, I could use some of the ideas with  our young learners at Equal Bright School".  – Gaylord Anderson, Centre Director Equal Bright  School, Bandung, Indonesia.

"The training itself is really interesting, we've talked a lot about education in the classroom, also how to open our mind to have a 21st century teaching methods." – Rini Wijaya, Vice-Principal Blue Dolphin Playnest, Sunter, Jakarta.
"It helps me realise I need a system and good support to be a teacherpreneur. I can add more skills & values to my routine". – Maria Rasdiana  Teacher TK Budhaya 2 St. Agustini, Jakarta, Indonesia.